What do Municipalities want?
Making Progress with the MBI for Energy-Electricity and Waste Management Services
Benchmarking is internationally recognised as an effective means towards performance improvement, through both (i) introducing suitable Performance Indicators by which to track and improve performance against yourself and your peers, and (ii) as a means to profile and share best practises via peer-to-peer engagements and resulting "adaption" of these best practices by the broader community. The SALGA led Municipal Benchmarking Initiative (MBI) for Water Services has had a very positive impact on the municipal water and sanitation services over the last few years, and has recently been expanded to include both energy/electricity services and waste services.
Recently, peer group workshops were held for both waste management services (6th February 2018) and energy-electricity services (8 February 2018) at the SALGA offices in Pretoria. Workshop invitations were sent to all Metros and secondary cities, and to known municipal champions. Eleven (11) representatives from seven (7) municipalities attended the waste management services workshop, while twenty (20) representatives from twelve (12) municipalities attended the energy-electricity services workshop. In addition, several representatives from SALGA National and Regional offices also attended the workshops. The following aspects were presented and discussed: (1) Background: Recap of MBI, (2) Draft Municipal Strategic Self-Assessment (MuSSA) – Municipalities were asked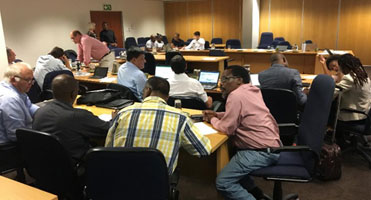 to complete the draft MuSSA during the workshop, (3) Consideration of draft Performance Indicators (PIs), and (4) known Case Studies of good and best practice. Key workshop outcomes and actions included:
Municipal representatives again indicated strong interest in participating in the MBI.
Municipal Strategic Self-Assessment (MuSSA): Some comments and required refinements were noted by participants.
Performance Indicators (PIs): Although it was noted that some PIs required refinement (e.g. Human Resources), the municipalities agreed to try and provide data for all PIs. The outcomes from this exercise would be used to: (i) Test whether Metros were ready for the 2018/2019 reporting cycle (i.e. when the PIs would be introduced), (ii) Further refine PIs (if required), and (iii) Test the applicability of the PIs to all municipalities (i.e. are all municipalities able to report on these PIs).
Case Studies: A request was made to workshop participants to (if possible) provide case studies of good and best practice. The MBI team requested ~5 articles of length 1-3 pages, and with pictures.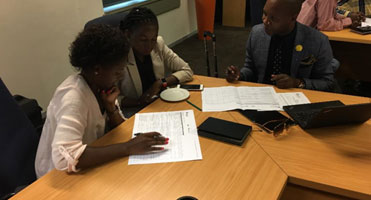 In addition to the above, all participants were asked to complete a feedback form. The feedback showed overwhelmingly positive response to meeting as a peer group to discuss key topics of interest/address sector needs. Most participants also agreed with the suggested MBI approaches of:
Using the MuSSA and associated priority planning process.
Approaching third parties for data (i.e. data already supplied by municipalities to third parties) with the municipality checking this data.
Aligning PIs to national initiatives.
Using the already established MBI Munibench.
Generating MBI Municipal Scorecards for their particular municipality.
The above key findings will help inform the MBI way forward strategy.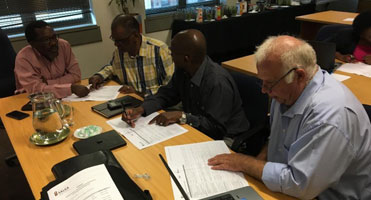 Municipalities play a crucial role in the distribution and supply of electricity across South Africa. The landscape in which this role is played is a challenging and changing one. Following on from the recent energy crisis, many commercial, industrial and residential consumers are looking outward towards alternate means to ensure their energy security. Within this changing landscape, both opportunities and threats exist for municipalities, including their playing a key role in unlocking investment opportunities for energy services whilst amending their own business models to cater accordingly.
The waste industry in South Africa consists mainly of collection and landfilling, with a limited amount of recycling (approx. 10%). Municipalities play a key role in
waste management, handling household waste and commercial and industrial waste – noting that in larger municipalities the private sector and/or service providers may be involved. Whilst waste is often seen as the Cinderella of municipal services, the country's waste management landscape is also changing due to national and international policy and regulatory reform. Considerable potential now exists to increase the amount of recycling and to create related opportunities. Opportunities exist for an expanded waste management sector (collection, sorting, processing, treatment etc.), and for reuse, recycling and recovery.
For further information on the MBI, or if you would like to get involved, please contact us.