IWA Webinar
Interpreting climate information for water utilities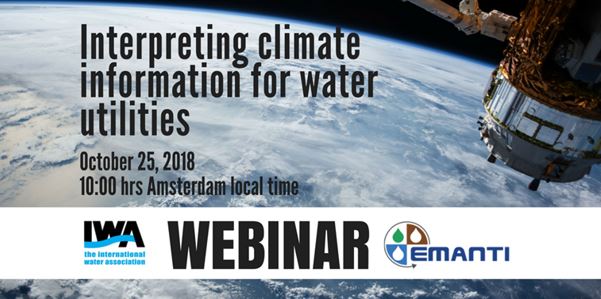 Emanti have been assisting the International Water Association (IWA) with the development of a guidance document to assist utilities/municipalities with using/interpreting climate information from selected data sets (e.g. rainfall, temperature, rainfall forecasting, etc.) from the Flood and Drought Portal, and incorporating these findings into WSP processes.
The Flood and Drought Portal (http://www.flooddroughtmonitor.com/) has tools that can be used individually or collectively to incorporate information about floods and droughts and likely climatic scenarios into planning. The data and information tool (application) provides near real-time satellite based data, seasonal and medium range climate forecast, climate change projections and different types of data and information relevant for basin and local planning. One of the challenges that IWA has noted with the data/information is that utilities have trouble interpreting the data, and incorporating the findings into their water safety planning processes and operations.
In addition to a training event held at the IWA World Water Congress in Tokyo on 18th September 2018 (Climate smart utilities – tools for building resilience), IWA and Emanti hosted a webinar on the 25th October 2018 which demonstrated how to access the data sets, process and interpret data, draw conclusions, and incorporate findings into water safety planning processes. In particular, the webinar explains how water utilities can use and interpret information from selected data sets (e.g. rainfall, temperature, etc.) in their short- to long-term planning to become more climate resilient.
The webinar video is available via this link: https://vimeo.com/297250629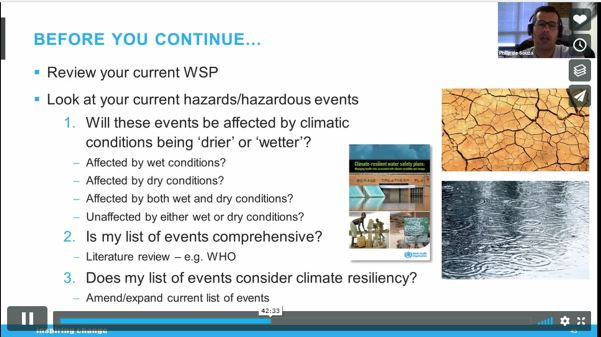 Further background material is available via the following links:
• Visit the Flood and Drought Portal: http://www.flooddroughtmonitor.com/home
• Visit the project website: http://fdmt.iwlearn.org