Invitation to visit Bavaria
Unathi Jack of Emanti Management received an invitation from Gesellschaft für Internationale Zusammenarbeit (GIZ) to attend a 5 day seminar from the 5th to 9th June 2014 in Bavaria, Germany. The title of the seminar was Wastewater and Waste management for South Africa and Lesotho with the main aim to foster cross-cultural business relations between the three countries in the above mentioned field. 17 delegates from Gauteng, WC, KZN and Lesotho attended the seminar.
Site visits to solid waste management and wastewater treatment plants were conducted where waste management services are practised ranging from sorting, recycling, composting and energy production. Presentations were given providing an overview of the various practices followed by site visits. Photos from site visits are shown below.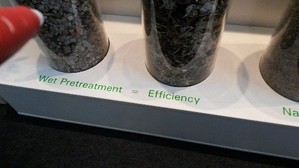 Two days were spent at the IFAT exhibition which is an International Trade Fair for Water, Sewage, Waste and Raw materials Management. Delegates had an opportunity to interact with solid waste, wastewater and energy management companies and learn a lot about management techniques used and environmental legislations governing waste management. Some of the photos taken at the fair are presented below.
On the final day delegates were taken to visit the Department of Economic Affairs who funded the programme. The department informed the group about the history of the exchange programme and its aims. Delegates were encouraged to present feedback about the insights of the week in Bavaria.
Despite the busy programme, delegates also managed to have some fun and were taken to places of interest such as museums, the big churches, historic places of remembrance, and of course, the visit would not have been complete without a visit to a beer house to taste and enjoy one of the famous Bavarian beers.
One thing we came back having realized is that no waste is wasted.