EMANTI: Municipal Assistance with Blue Drop Pays Off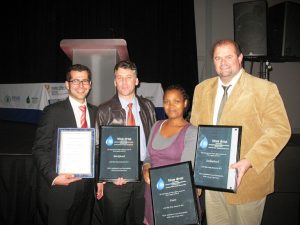 The report for the Department of Water Affairs (DWA) Blue Drop Certification programme was released on Thursday, 30 June 2011, and Stellenbosch Municipality received an overall Blue Drop score of 95,74%. The DWA report stated that Stellenbosch was found to manage drinking water quality "in an excellent fashion". Mr Brett Keyser, head of Water and Waste Water Treatment for Stellenbosch Municipality, attributed their success to the assistance of Emanti Management in making sure that their water is of good quality. Emanti Management has been monitoring and managing water quality and providing guidance to Stellenbosch Municipality since 2003, and has helped Stellenbosch Municipality to obtain Blue Drops for each year since the inception of the Blue Drop Certification programme in 2008.
Emanti Management utilises a range of available sector tools to assist many municipalities, like Stellenbosch Municipality, to effectively monitor and manage their water services. In addition to being the developers of the international award-winning Electronic Water Quality Management System (eWQMS), the Emanti team has an excellent working knowledge of Department of Water Affairs Blue Drop System, and also utilises Water Research Commission tools and guidelines to assist municipalities with progressively improving service delivery (e.g. Water Safety Planning tools, Infrastructure Vulnerability and Risk Assessment tools).
If you would like any Blue Drop Certification programme assistance, please do not hesitate to contact us.